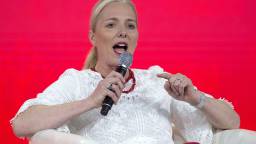 Here's how a deleted account targeting Catherine McKenna may have broken Twitter's rules for fakes
READ MORE: Catherine McKenna takes on Rebel reporter over outlet's 'climate Barbie' nickname
Change Location
Newscasts & Videos
Environment Minister Catherine McKenna addresses a session on protecting the environment and growing the economy at the federal Liberal national convention in Halifax on Friday, April 20, 2018.
Conservative pundits are crying foul after Twitter deleted a fake account government officials said impersonated Environment Minister Catherine McKenna.
While pundits unhappy with the deletion of the account argue it stifles free speech, officials asserted the account was a blatant impersonation of the minister.
And according to the rules set out by Twitter for impersonations and parodies, it appears the fake account might have crossed the line.
READ MORE: Catherine McKenna takes on Rebel reporter over outlet's 'climate Barbie' nickname
The whole fracas started, as such things on Twitter often do, at midnight on Monday when former Dragons' Den personality W. Brett Wilson either didn't know or didn't care that a tweet he was re-posting about a non-existent National Beaver Week came from a fake account set up to parody McKenna.
Wilson then took what he appears to have thought was McKenna to task.
Who writes your tweets Minister? How do you find someone this incompetent (aka stupid)???
Beavers love low water and high water. We have hundreds on my lands.
Climate change is supposed to increase water levels not decrease. #StupidTweet https://t.co/tzztJ732U6
— * W. Brett Wilson * (@WBrettWilson) June 25, 2018
Users quickly pointed out that the account was not the one belonging to the actual Minister of the Environment.
Among them was Gerald Butts, principal secretary to Prime Minister Justin Trudeau and frequent tweeter.
He tagged Twitter founder Jack Dorsey in a tweet urging the social media platform to examine the impersonation.
This just goes to show that even the most discerning @Twitter users can fall prey to fake accounts. @jack you may want to look into this. https://t.co/J71D48qUIF
— Gerald Butts 🇨🇦 (@gmbutts) June 26, 2018
On Tuesday evening, Twitter deleted the fake account.
That sparked outcries from Conservative pundits online who argued the government was shutting down free speech, which resulted in the deputy director of digital operations with the Prime Minister's Office defending the deletion.
Crocodile tears flowing hard tonight. That was in no way, shape or form a "parody account" – it was designed to impersonate & trick. Twitter takes down impersonation accounts of public figures from any party.
cc @stephen_taylor https://t.co/zHA5Xs5CfZ
— Dave Sommer (@realdavesommer) June 27, 2018
Two relevant policies are likely at play in the decision, and they centre around the question of where the line falls between impersonation and parody.
Conservatives argue the fake account is a parody, something set up to mock or satirize the minister.
Liberals argue that because it uses her avatar and other similar photos as well as a similar username and account name, it is an impersonation set up to deceive users on the platform by sharing tweets that are not factually true but that others might not be able to distinguish as such.
Twitter does not provide a precise definition of how it differentiates parody from impersonation but provides an overview of the rules for both in two policies.
In its impersonation policy, Twitter warns that "accounts portraying another person in a confusing or deceptive manner may be permanently suspended under the Twitter impersonation policy."
WATCH BELOW: Facebook cracks down on 470 fake news pages linked to Russia
It is not considered impersonation if an account happens to have the same account name as another user, and states clearly that it is not affiliated with any other people who share the same name.
For reference, the real (verified) account of the Environment Minister is @cathmckenna, with the account name spelled out as "Catherine McKenna."
The parody account, which was not verified, used the username @cathemckennna and spelled out its account name as "Catherinne McKennna."
READ MORE: Catherine McKenna takes responsibility for tweet praising Syria
The parody account also used the exact same avatar image as the real account, which Twitter warns is not automatically a violation unless the account is also operating in what Twitter deems a "misleading or deceptive manner."
The second relevant policy is the one dealing with parody, newsfeed, commentary and fan accounts.
In that, Twitter states that the biography of the account must clearly state it is not the real thing by including words such as "parody."
READ MORE: Canada can't do much to stem fake news, according to government documents
It also states that the account name "should not be the exact same as the subject of the account without some other distinguishing word, such as (but not limited to) 'not,' 'fake,' or 'fan.'"
The policy also states the distinguishing made in the account name must be "done so in a way that would be understood by the intended audience."
It is not clear whether that last part could be used to call into question differences in account names that, while not exactly the same as those they are parodying, are close enough that the average user might reasonably grasp the difference.
WATCH BELOW: Facebook advertising — Targeting users based on likes
When asked whether those policies played a role in the decision to delete the account, a spokesperson for Twitter Canada said the company never comments on specific actions it takes against users.
"We don't comment on the suspension of individual accounts or individual Tweets as a matter of privacy for users," said Cam Gordon, head of communications for Twitter Canada.
"We have individual policies for impersonation and parody. Accounts that are in violation of these will be actioned. There is an online form for impersonation that anybody can fill out to report an account."
This is not the first time conservatives on Twitter have suggested the platform is unfairly targeting them.
In January and February, the company purged almost a million bots and fake accounts in an effort to crack down on misuse of its platform.
Prominent users including celebrities and a number of alt-right figures complained they were being unfairly targeted by the purge, which locked and deleted malicious and automated bot accounts, some of which were linked to efforts by Russia to influence political discourse.
Twitter has also faced harsh criticism for not doing enough to prevent the spread of misinformation and fake news on its platform.
Failure to take seriously complaints of bullying and harassment, particularly of women, is also a frequent subject of criticism aimed at the company.
Finding the right balance, as evidenced by the reaction to the account deleted this week, has proved challenging for Twitter.
But as of Wednesday morning, it appears deleting the account accused of impersonating McKenna may have made little difference.
Backfire! Gerry Butts had my original account banned. Since starting the new one 12 hours ago, its got 25% more followers. On our way to 100k and more speech freedom for Canadians! #mckennaparody
— CatheMckennnna (@CatheeMcKennnna) June 27, 2018
Starting from zero followers with the new account. The real Catherine is just shy of 100k. How about we have a race to 100k real followers. Ready? Go!
— CatheMckennnna (@CatheeMcKennnna) June 27, 2018
A user claiming to be the same person behind the original account has already set up a new one, using the same avatar and posting the same types of tweets.
Several other new parody accounts are also up and running.
Want to discuss? Please read our Commenting Policy first.