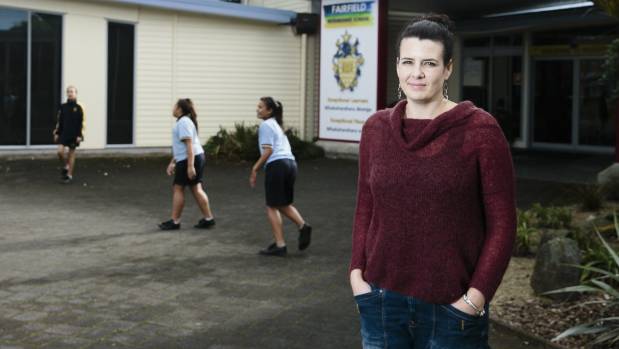 Hamilton school's ERO report highlights levels of disparity, students not achieving
The cobalt-coloured gate at Fairfield Intermediate School needs a lick of paint.
The school paid $125,000 for the painting contract a few years ago and pays an ongoing $40,000 maintenance fee each year.
The operational grant foots part of the bill, leaving the board of trustees to source the rest.
But a lot has changed over the past couple of years, and this year the board is not sure where the extra funds will come from.
READ MORE:
* Rototuna Junior High opening affects rolls of nearby schools
* Principals say four new Hamilton schools unnecessary
* Principals share how to choose a school
* Report reveals deep pockets of deprivation in the Waikato
* Positive ERO report for Hamilton's Fairfield College
​It's a dilemma in a long list of many for the once-thriving intermediate school situated in one of the most deprived suburbs in the country.
The Education Review Office recently released its report for Fairfield Intermediate for 2016 and 2017. It revealed the school was not achieving equal outcomes for all its students.
Half did not achieve the expected national levels for reading, writing and mathematics.
There were significant levels of disparity in achievement for Māori and Pacific students, who achieve at much lower levels than their Pākehā peers at the school, the report read.
And the school was not accelerating learning for Māori students whose achievement was below expected levels.
The school's principal is a year into his role. Students were without a principal for much of 2016.
This year, the school has 10 new staff, eight of whom are in their first two years of teaching.
There have been several new members on the board of trustees, including two chairpeople.
And the roll has decreased by 22 per cent. The roll was 766 in 2015. It now sits at 594, up slightly on 2017.
The nationwide teacher shortage has also impacted the school. It advertised for a teaching position at the start of term two and, so far, there have only been two applications – both from overseas.
But it's not so much that Fairfield has got worse, but that all the rich kids have fled to the new schools in Rototuna, making those left percentage-wise much worse, Te Akatea Māori Principals Association vice president Myles Ferris says.
He says New Zealanders have a utopian view of education, thinking all schools are the same and all children are equal, but they're not.
The Ministry of Education says new schools are only opened if there is a justified need for it, such as predicted growth.
Most schools in New Zealand operate in a zone, as children are expected to go to school in the neighbourhood they live in.
Before the decile 10 Rototuna Junior High opened, the only intermediate zoned for the northern suburbs was Fairfield Intermediate.
Ferris says parents are making decisions on where to send their child based on the perceived quality of the school when, in actual fact, they're perpetuating a class-based system.
"In terms of having this wonderful society where we all are equal and we all get along, we're not actually creating that with the current education system that we have.
"I think we need to try to break that down. How we do that? I don't know. I don't know if we can manufacture people in a particular area and force them to go to a lower decile school.
"But maybe, likewise, those high-decile schools should be required to accept low-decile students from low-socioeconomic areas. Maybe they should be made to open up for that, so that everybody gets to understand."
Ferris is the principal at Otangarei School in Whangarei.
It's a decile 1 school in a pretty rough area, he says.
His wife is a teacher also and they make a decent living.
"We are living in the country near a decile 5 school and, again, with that variation of sort of wealthy people and some people who are in the community who are not as well off.
"I ended up bringing my third child, my son, here to Otangarei and I've currently got my daughter here as well, because I believe they need to understand what it's like for the students in this school. Plus I know they're getting a good education, so that's not an issue.
"What we struggle to do is to encourage people, those on the outside looking in, to actually believe we're doing a great job."
Ferris says those who read ERO reports need to understand that the review is often a snapshot of the school.
"When we look at our data that says we've got 70-odd per cent of our kids achieving at or above, what they don't understand is what they were like when we first get them.
"They don't understand we've got a transient rate of around 58 per cent. That's really high in terms of kids coming in and coming out, so when we give them that old national standard data to see where we're at, it doesn't tell the true picture."
Ferris knows the principal at Fairfield Intermediate, Andrew Shortcliffe, quite well, and says he's confident the school will thrive under his leadership.
"Fairfield is an intermediate school, so they have the students for two years – they're not in control of the students that they get.
"If the cream of the crop decide to go elsewhere, then that is going to have an impact on that data over that period of time."
A recent local government report on deprivation showed areas in Fairfield are among the most deprived in New Zealand.
The data, using 2013 Census statistics, revealed 61 per cent of Hamilton residents live in areas of high deprivation. The top five deprived areas are all in Fairfield.
The report identified drivers such as employment, income, housing, crime, health and education across nearly 6000 areas in New Zealand.
The contrast between the two suburbs, Fairfield and Rototuna, is one of the reasons ERO reports need different measures, Fairfield Intermediate board of trustees chairwoman Rebecca Renner says.
She says the list of problems from ERO is significant, but the report lacks context.
"The new school in Rototuna was always going to have an impact, but what that looked like no one knew, because it hadn't really happened anywhere else in the country until it happened to us.
"The make-up of Fairfield Intermediate has changed, but the quality of education hasn't changed."
Renner says the reports should be a fair reflection of an individual school, otherwise it's like comparing apples with oranges.
"I talked to a teacher who teaches a well-being class and sometimes when the kids come to class, she's giving them the first meal that they're eating for the day.
"She's struggling and wondering whether she sticks mince in the spaghetti bolognaise because the budget is not big enough.
"And I'm going, this is ridiculous, this is crazy, can we not find somebody that is going to support your area of the school, somebody who wants to feed the kids?"
Fairfield Intermediate is a decile 5.
Fairfield Primary School, which sits directly across the road from the intermediate, is a decile 1.
A decile is how the government calculates how much funding a school needs. It reflects the percentage of the school's students who live in low socioeconomic or poorer communities. Lower decile schools have more students living in poorer communities.
The decile rating is a reflection of the community the school serves, not a measure of the school's quality or the ability of its teachers.
Because the make-up of the school has changed, Fairfield Intermediate's trustees are in the process of applying for a decile review.
Renner says there's a stigma attached to lower decile schools.
"We have to wear the ERO report and in some ways, the school is making great progress in student achievement, but we're not acknowledged for that. We're not making as much progress as ERO wants to see.
"Is that disappointing? Yeah, it is. I would love for the school to be achieving as well as Hukanui Primary and Rototuna Primary, but our reality is that a lot of our kids are coming to us well below and we have two years to make this jump and how do we do that?"
Fairfield Intermediate liaised with the Ministry of Education before Rototuna Junior HIgh School opened.
The ministry undertook detailed analysis of various roll and staffing projections to determine the impact the opening of the junior high was likely to have on Fairfield Intermediate, deputy secretary sector enablement and support Katrina Casey says.
However, that's as far as the research extended.
As a consequence of the school's opening, Fairfield Intermediate has not only lost students, it's lost the extra funding that would have come from parent donations. Furthermore, since it is made up of older buildings, it spends more on maintenance than a new school, though the funding is the same for all schools with the same number of students, regardless of age.
The goal for Fairfield is to ace the next ERO review.
There are already several things in motion at the moment, Renner says.
That includes a programme called Whaia te Tika. It identifies at-risk children and helps them to set goals and to become more independent and responsible for their own choices.
More than 80 children have taken part in the programme so far and Renner says it's so successful, the ministry has invited other school leaders to look to Fairfield as an example of how to do things right.
Renner says Fairfield Intermediate is a great school; it was great when she attended and it's great now. Her two eldest attended and her youngest child is enrolled there.
The school just need a chance to prove that's so.
"I chose to come here because I love it. The kids are great and this is where I want to be.
"The make-up of the school has changed, yes. But the vision hasn't changed: Whakaharahara ākonga, whakaharahara wāhi – Exceptional Learners, Exceptional Place."