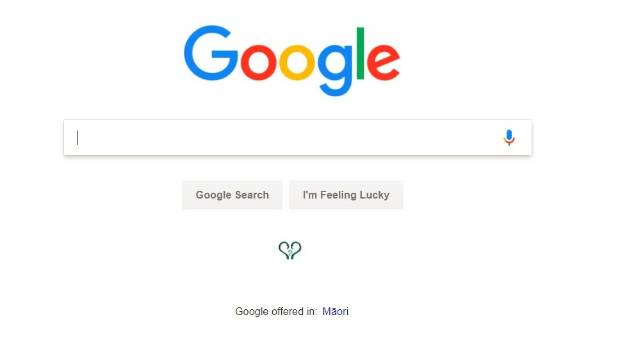 Google pays tribute to PM Jacinda Ardern's baby
Two large fish hooks cradling a smaller one have appeared on the Google homepage to congratulate Prime Minister Jacinda Ardern and her partner Clarke Gayford on the birth of their daughter.
The graphic appeared below the search bar on Friday morning, the day after Ardern and Gayford's baby was born.
The Prime Minister had not seen the hooks until it was pointed out by the Prime Minister's office.
A spokesperson said she was "genuinely surprised" by it.
READ MORE:
* PM Jacinda Ardern's first night as a mum
* PM Jacinda Ardern gives birth to baby girl
* PM Jacinda Ardern's baby: What the future will look like
* Live: Prime Minister Jacinda Ardern to have baby
"The Prime Minister said it's lovely to see that imagery used, and 'something Clarke and I came up with on the kitchen table is now a google landing page'."
Wellington artist Stephen Templer designed the image, a nod to the photo the couple posted to Instagram to announce the pregnancy – two fish hooks with a smaller one inside.
"I just thought that would be a really nice idea – I did a couple of illustrations for them. One was a Kiwi … with a baby and the other was just taking those hooks and obviously making the two bigs hooks almost like cradling the little baby hook on the inside," Templer said.
"It's obviously a very New Zealand symbol as well."
The green hooks in the image also face each other to make the shape of a heart.
Google asked Templer to come up with the graphic "a couple" of weeks ago, and it took him about two days to produce the illustrations.
It was the first time he'd had work on the website.
Neither did he have any special connection to the couple – aside from "being a universal supporter and a parent as well".
By 11am on Friday, he hadn't heard anything from Ardern or Gayford, but he also said he was "pretty sure" the couple had no idea the image was being created.
"I just thought it was amazing that Google would take note and go for something so local. It's just a lovely thing to do.
"I feel very proud, very flattered, very honoured to have a small contribution in this momentous occasion."
Templer said he wasn't sure how long the image would be displayed on Google's homepage.
Ardern and Gayford's daughter was born at 4.45pm at Auckland City Hospital on Thursday, June 21 weighing 3.31kg.
"I'm sure we're going through all of the emotions new parents go through, but at the same time feeling so grateful for all the kindness and best wishes from so many people. Thank you," Ardern said.