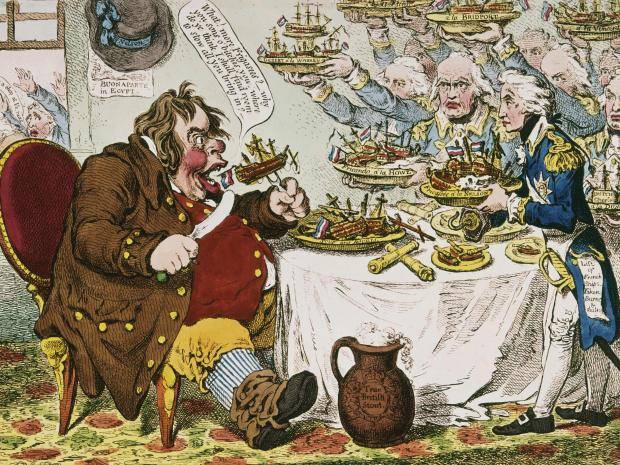 Gammon: Why is the term being used to insult Brexiteers and where does Charles Dickens come into it?
Left-wing Twitter users spark racism debate after likening flushed, middle-aged Brexiteers and Ukippers to hearty pork steak most often seen on pub menus
Gammon, the traditional pork steak commonly served in British pubs, has become the subject of unlikely uproar on Twitter.
Members of the British left have been invoking the hearty cut – routinely served with a fried egg and chips or a limp pineapple ring – as an insult with which to describe red-faced conservative men and Ukippers ranting about Brexit.
Those on the right have been quick to counter that the term is racist on the grounds that it is intended to maliciously offend people based on the colour of their skin.
The counter-counter-argument is that the right frequently complain about the prevalence of "identity politics" in public debate and now look ridiculous atop their high horses given the huge number of derogatory terms they cast about online to smear their political opponents.
As comedy writer David Schneider neatly summarises:
Precisely who started the current furore is uncertain.
Children's author Ben Davis tells The Independent that he coined the term with a tweet composed while watching coverage of the 2017 election result:
Mr Davis writes that he intended the remark as a throwaway joke, aimed at sending up blustering "golf club" types, but has since felt disquieted by the "nastier" and more "weaponised" manner in which it has been put to use.
Matt Zarb-Cousin, a former spokesman to Labour leader Jeremy Corbyn, has also been credited with kickstarting the row after labelling a Jacob Rees-Mogg supporter "a gammon" following a brawl at the University of the West of England in Bristol in February.
He subsequently wrote an article exploring the significance of the phrase for Huck magazine in which he anatomised the gammon as a baby boomer typically found among the BBC Question Time audience with "high blood pressure and a red meat complexion" prone to wearing "boot-cut jeans, loafers and an open-collared white polyester shirt" and displaying a marked preference for warm ale.
He has now been criticised over the issue by Democratic Unionist Party MP Emma Little-Pengelly:
She in turn was attacked by Guardian journalist Owen Jones for belonging to a party that "is basically gammon from the 17th century".
Mr Zarb-Cousin has appeared on both BBC Radio 2 and Sky News over the last 24 hours to discuss whether the term really is racist or not. He has plenty of supporters in the "no" camp.
Anoosh Chakelian of The New Statesman has traced the first use of "gammon" back to Times columnist Caitlin Moran, who described former prime minister David Cameron as a "C-3PO made of ham" and a "slightly camp gammon robot". Alas, this would not be the last time Mr Cameron would find his name unfavourably connected with a dead pig.
Twitter user @Protooptimism tracked the coinage back even further, noting that Charles Dickens employed it in the pages of Nicholas Nickleby (1839):
"The general impression seemed to be, that as an explanation of Mr Gregsbury's political conduct, it did not enter quite enough into detail; and one gentleman in the rear did not scruple to remark aloud, that, for his purpose, it savoured rather too much of a 'gammon' tendency."
"'The meaning of that term – gammon,' said Mr Gregsbury, 'is unknown to me. If it means that I grow a little too fervid, or perhaps even hyperbolical, in extolling my native land, I admit the full justice of the remark. I AM proud of this free and happy country. My form dilates, my eye glistens, my breast heaves, my heart swells, my bosom burns, when I call to mind her greatness and her glory."
Gregsbury is an MP prone to justifying the various misdemeanours and hypocrisies complained about by his constituents on the grounds that he is all-too-often carried away by patriotic sentiment. "I clasp my hands, and turning my eyes to the broad expanse above my head, exclaim, 'Thank Heaven, I am a Briton!'".
Dickens actually intended the phrase "gammon tendency" to mean "bogus" or "disingenuous" but Mr Gregsbury otherwise perfectly matches the description of his entitled modern counterpart.