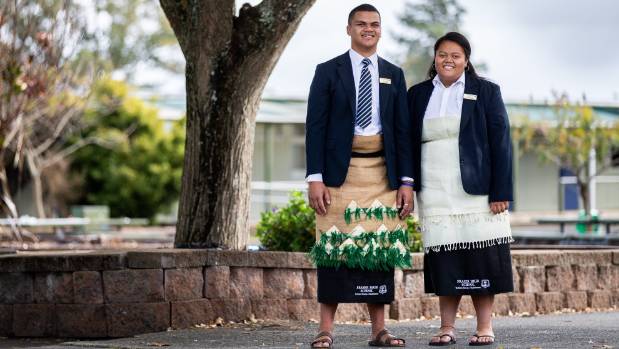 Fraser High School introduces ie faitaga as official uniform
They're known as tupenu in Tonga, sulu in Fiji, and ie faitaga in Samoa, but at Hamilton's Fraser High School, they're simply known as an item of school uniform.
Fraser is the first school in the Waikato to offer ie faitaga (formal lavalava) as part of its school uniform.
The item was introduced this year in recognition of the school's Pasifika students – 178 of them – and after much consultation with the school's Pasifika community.
It's also an item intended to be worn everyday and not as a token gesture, Fraser High School Pasifika Dean Junior Si'ilata said.
READ MORE:
* Secondary schools showcase Pasifika pride at Hamilton's Claudelands Arena
* Pasifika festival business opportunity for island nations
* All Blacks in traditional dress, but Samoan Prime Minister steals the show with jibes
Students had been wearing their church ie faitaga (formal lavalava) to school but it was never recognised as uniform.
"The teachers noticed and they were cool with it because it's the Pasifika way of representing who they are. But having it recognised like this is taking it that one step further and giving it that stamp of approval," he said.
"We have a large population of Pasifika students at Fraser so it was important to recognise that – though the real drive behind the proposal were the parents."
The garment – known as ie when worn by females, and ie faitaga when worn by males – is black with white print.
"We kept the Māori name in print because we want to emphasise the fact we're a united group as Kiwi's, but the item itself symbolises that Pasifika flavour."
The plan was to keep the item simple and inclusive as there were students who hailed from as far away as Kiribati, Tahiti and Hawaii, among others.
"It helps embrace who we are and our culture. We don't like being labelled as Pasifika students, like, we're normal students – but we're just dressed differently," senior student Viliami Vea said.
"It's about being conscious and respectful of different cultures."
And it's not the only win to be celebrated.
Fraser's Pasifika performing group took out the Pasifika by Nature competition at Claudelands Event Centre this month, beating 11 other schools.
One student who took part, Simolo Reupena, said she was shocked but humbled at the win.
"I felt like every school brought it, they all brough their A game. We were all winners in the end."