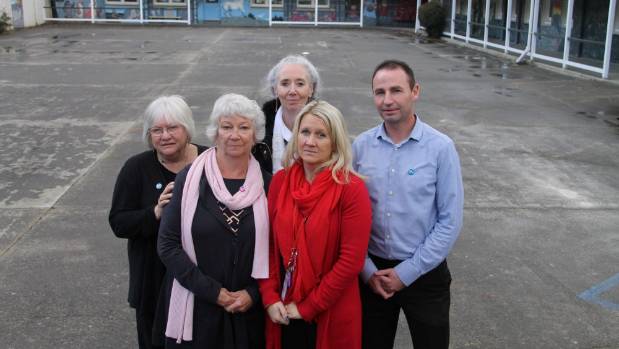 Final farewell to Roxburgh children's residential village
Beds were made, bikes lined up and soft toys stared out blankly into an empty playroom.
A sad quiet hung over the Roxburgh Children's Village on Monday when community members were invited to farewell the facility.
After 70 years of operation, the last wave of children to go through the village left on Friday, along with 27 staff.
Mammoth efforts from the community, including over 1000 people e-mobbing the prime minister, failed to save the facility.
Central Otago mayor Tim Cadogan took a last swipe at the Government for not coughing up the $1 million needed to keep the facility open.
Central Government had let Stand "whither on the vine" with no funding increase from 2009, he said.
"This closure is a national shame … Shame on Tracy Martin, minister for children. This person has been willing to hide behind words to avoid the reality of the consequence of her actions, or inaction.
"Shame on Prime Minister Jacinda Ardern for not honouring the promise to make New Zealand the best place in the world to be a child … Shame on Rino Tirikatene, MP for Te Tai Tonga. 40 to 45 per cent of the users of the village have been Maori."
The southern mayors had fought as one to stop the closure, including writing to Tirikatene seeking his support within days of the announced threat of closure, Cadogan said.
"He never wrote back. He never rang. He never did, to my knowledge, a damn thing for the tamariki of the south through this event. Shame, shame, shame on him."
The economic impact of the closure on the small town of Roxburgh could not be underestimated, he said.
"In terms of non-seasonal work, the village would be one of the two biggest employers I would think and that loss of work will have an effect on the town and of course on the individuals concerned."
"I am utterly gutted today. Gutted, and angry."
Stand chief executive Fiona Inkpen said the staff who had lost their jobs had worked with passion and commitment to their duty of care until the end of day Friday.
"You just feel immensely proud of their capacity to keep that focus, keep that passion, until the very last moment."
The therapeutic intervention programme would continue but would be delivered through the home and school, she said.
Regional manager Dwight McDowell said over his 15 years at the facility there had been a huge evolution understanding their role in providing therapeutic community and trauma informed work.
"We know so much more today than we did five years ago, 10 years ago, and seeing that evolve … I know that is continuing as part of our other services, but it is hard not being able to deliver that from here when I think we were at the cutting edge of something really important."
Practise manager Rosey Davies said what the village offered could not be replicated.
"We have seen the transformational stuff that happens here in this village. We just saw it last week for families. You take them on a journey here you can't replicate anywhere else. I remember the very first group when I came and I think I will always remember the last group. You become apart of their world. You can't do that anywhere else. It's really special."
Village board trustee Helen Eskett said the board would not be making any "rash" decisions about the future of the facility.
"We don't meet until next month. This has happened very quickly.