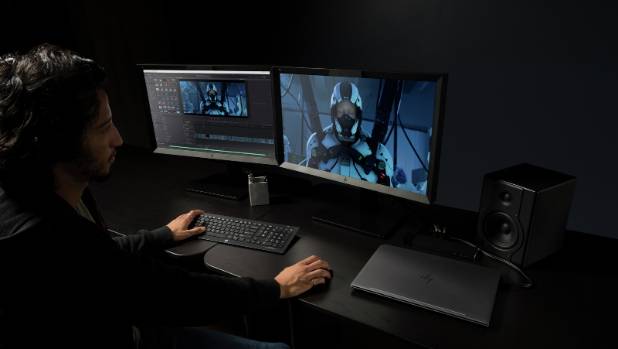 Film editor creates from anywhere sponsored
Meet Luke Haigh, the international film editor who's cutting movies in unexpected places.
He's just finished up on the New Zealand portion of the new Daniel Radcliffe movie Guns Akimbo; he worked with Taika Waititi on Hunt for the Wilderpeople and 'cut' Turbo Kid which premiered at the Sundance Film Festival. He's responsible for assembling some of your favourite commercials, even a short film Blue that won at Cannes critics week. Oh, and Haigh also edited Six60's music video for their hit song Don't Forget Your Roots.
When you're a film editor, you need serious computing power – and if it can come with you, so much the better. "I've been cutting for around 15 years and the gear that you're using can mean the difference between success and failure," he says.
It wasn't long ago that the computing power necessary for a film editor was room-sized. A decade back, recalls Haigh, you wouldn't even be able to lift the equipment necessary. Now, everything is packed into a laptop. "Which is pretty mind-blowing, really."
Haigh chooses the HP zBook Studio mobile workstation and one of the better opportunities Haigh's had to put the zBook Studio through its paces is the 48-hour film making competition, where you have 48 hours to create a short film from scratch. Sounds stressful. "It is a bit," laughs Haigh, "But it is also fun. It's raw, powerful and honest filmmaking which takes you back to your roots."
No matter the scale of the project you're working on, showing up with everything you need in a compact laptop makes a big difference, for any assignment Haigh says. "Just jack into a monitor and you're away. That's amazing. Time really is money and with short deadlines these days – not only in the 48 hour [competition] – being able to edit from anywhere, even on a plane, makes a huge difference to productivity. The zSeries is small enough to offer that versatility" says Haigh.
This powerhouse laptop is built on Intel Xeon processors and packs enough capability in a compact package to keen even Haigh happy; he says indispensable features for a creative worker are "lots of RAM, grunty graphics, good processing and a killer colour-calibrated screen."
With many younger people eyeing up a career in the creative spaces, including shooting, editing and publishing sometimes quite astoundingly good YouTube videos, Haigh says the availability of powerful tools like the zBook Studio is a complete game changer. "This is an amazing machine at a reasonable price. The software these days is also affordable, at a monthly subscription and some educational versions are free. The only hindrance these days is your own creativity – and I'm excited to see what people can produce. There's no excuses, so get to it!"
For those who work or play in the creative sector, who need high powered computing, you should see what the HP zSeries can do for you. Learn more at: http://www8.hp.com/us/en/workstations/overview.html.