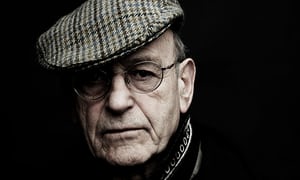 'Fearless' Irish playwright Tom Murphy dies aged 83
Tributes paid to revered dramatist whose plays include A Whistle in the Dark and Famine
Tributes have been paid to the influential playwright Tom Murphy, who has died at the age of 83. Ireland's president, Michael D Higgins, said Murphy made an "immeasurable and outstanding" contribution to Irish theatre.
Higgins called Murphy, whose works include A Whistle in the Dark and The Sanctuary Lamp, "the great playwright of the emigrant" and said he captured "in a poignant, creative way, the transience that is at the heart of the emigrant experience".
Selina Cartmell, director of the Gate theatre in Dublin, was among many who paid tribute on Twitter: "So sad to hear about the loss of Tom Murphy. A great man, a great writer, he understood our struggles and was fearless." The writer Fintan O'Toole tweeted that Murphy had spent "almost 60 years staging our darkest fears and deepest yearnings" and that, with his death, "a giant has fallen and there is a gap in the world".
Born in Tuam, County Galway, Murphy was a teacher and a factory worker before he made his name as a playwright in 1961 with the intense family tragedy A Whistle in the Dark, written when he was in his mid-20s. The play, which follows brawling Irish brothers who arrive in Coventry, was rejected by the Abbey theatre in Dublin, whose artistic director furiously criticised its portrayal of Irish emigrants. It was taken up by Joan Littlewood at Theatre Royal Stratford East, where its premiere was championed by the influential critic Kenneth Tynan. The play went on to become a West End hit.
The Abbey theatre premiered many of his plays, including The Gigli Concert (1984), about a property developer who dreams of singing like the Italian tenor Beniamino Gigli, and The Sanctuary Lamp (1976), which proved controversial for its blistering criticism of the Catholic church. "There were 20 people shouting and leaving each evening," Murphy remembered. "I thought, 'Hopefully 100 people will leave.'"
Murphy wrote around 30 plays, including adaptations of She Stoops to Conquer and The Cherry Orchard. Liam Neeson starred in his version of Liam O'Flaherty's novel The Informer, set in the early years of the Irish Free State, and staged at the Olympia theatre in Dublin in 1991.
In 1983, Murphy became writer-in-residence with Galway's Druid Theatre Company, who toured his plays around the UK and the US. In a statement, Druid said that "for four decades his work resonated with Irish audiences, creating a deep and enduring legacy". The company staged three of his plays, directed by Garry Hynes, in the nine-hour 2013 DruidMurphy production, comprising A Whistle in the Dark; 1985's Conversations on a Homecoming, about emigrants returning to Ireland; and Famine (1968), which explores the impact of the potato famine in County Mayo in 1846.
"There is a rage in me, which I think is a natural thing," Murphy told the Guardian in 2010. "It was in me when I was 24 or 25, scribbling with my stub of a pencil. And it's still there in everything I do. Rage not against the unfairness of life – life is of course unfair – but against the inequalities, the arrogance of power."