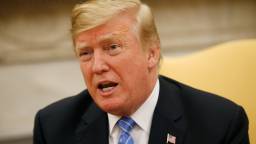 FART: Oddly-named Trump draft bill would rip global trade rules
READ MORE: Here's the list of Canadian retaliatory tariffs that took effect on July 1
Change Location
Newscasts & Videos
U.S. President Donald Trump made a veiled threat of walking away from the WTO while meeting with Dutch Prime Minister Mark Rutte at the White House on, July 2, 2018.
Canada, Mexico and the European Union (EU) have all hit back at U.S. tariffs by, among other things, filing formal complaints with the Geneva-based World Trade Organization (WTO), the arbiter of global trade.
But U.S. President Donald Trump's next move may be to take a shot at the referee itself.
READ MORE: Here's the list of Canadian retaliatory tariffs that took effect on July 1
The United States Fair and Reciprocal Tariff Act, or FART Act would upend the fundamental principles of the WTO, by allowing the U.S. president to raise tariffs at will. A leaked copy of an early draft of such legislation appeared on Sunday on news website Axios.
The unfortunate acronym of the bill quickly drew both ridicule and condemnation on Twitter, including from former White House director of communications Anthony Scaramucci:
WTO has its flaws, but the "United States Fair and Reciprocal Tariff Act," aka the U.S. FART Act, stinks. American consumers pay for tariffs. Time to switch tactics. https://t.co/OfyOFA1neU
— Anthony Scaramucci (@Scaramucci) July 2, 2018
The POTUS would like, for a start,
More power to rip trade apart,
Reported the press
Upon its success
In catching a draft of his FART.
— Limericking (@Limericking) July 2, 2018
"now he's going to threaten the WTO with what he calls the FART Act. hashtag pull my finger." pic.twitter.com/yDwCcmAwq2
— cartogeek (@cartogeek) July 2, 2018
But the jokes didn't prevent Trump on Monday from upping the ante against the international trade body.
READ MORE: Canada files WTO challenge of U.S. tariffs, vows to work with EU to oppose trade war
Speaking to reporters during a meeting with Dutch Prime Minister Mark Rutte at the White House, Trump said: "The WTO has treated the United States very, very badly and I hope they change their ways."
Unless the status quo changes, "we'll be doing something," the president also said, just hours after the EU said that U.S. automotive tariffs would hurt its own vehicle industry and prompt retaliation.
WATCH: Dutch PM appears to directly contradict Donald Trump on trade
Many in the Trump administration are highly uncomfortable with contents of the FART Act and believe there is a slim chance the bill would actually become legislation in its current form, Axios reported.
Later on Monday, White House spokeswoman Sarah Sanders said Trump was focused on fixing problems in global trade, not on leaving the trade organization that has been a foundation of the postwar global trading system.
"Right now, he'd like to see the system get fixed, and that's what he's focused on doing," Sanders said. "He's been clear that he has concerns, that there are a number of aspects that he doesn't believe are fair. And China and other countries have used the WTO to their own advantage. We're focused on fixing the system."
But some trade experts believe Canada and other countries should be very concerned about FART.
WATCH: Here's how Trump's auto tariffs could affect car prices in Canada
The U.S. president does not have the authority to turn the FART Act into law or formally end U.S. membership in the WTO without an improbable nod from Congress. But there is much the president can do on his own to effectively hollow out the current rules of international trade, according to Edward Alden, a trade expert at the Council on Foreign Relations, an American think-tank.
"I don't think Congress would pass a bill like this, but I think what's important is that it reflects the beliefs of the president and this administration," Alden told Global News. "What the president wants is an unfettered hand to raise tariffs on imports for whatever reason he deems necessary."
That contravenes two basic principles of the WTO, which imposes a ceiling on the tariff rates and prevents governments from unilaterally imposing different tariff levels on different countries without negotiating a free-trade agreement.
And that's why Trump would like to pass a bill that would essentially give him free rein to ignore WTO rules, Alden said. But the president doesn't really need FART, or generally speaking, the assent of Congress to trample over the WTO, he added.
READ MORE: Justin Trudeau says he hopes to work with new Mexican president-elect to reach NAFTA deal
There are a number of U.S. laws that give the president "huge discretion" to raise tariffs without approval from lawmakers, and the White House has already made use of them, he noted.
For example, Trump invoked Section 232 of the Trade Expansion Act of 1962, which grants the U.S. the ability to introduce trade restrictions on national security grounds, to impose steel and aluminium duties and threaten auto tariffs.
The administration also used Section 301 of the 1974 Trade Act, to slap tariffs on $50 billion worth of Chinese imports. Section 301 gives the president authority to impose duties in response to any trade practices by another country deemed "unreasonable or discriminatory."
READ MORE: Buying Canadian: How to do it right – and why there will be drawbacks
And while some U.S. senators are trying to roll back the steel and aluminium tariffs, it's unlikely Congress will ultimately want or be able to actually constrain the president, Alden said.
U.S. lawmakers would need a two-thirds majority to undo the president's trade policy, a benchmark that the sharply polarized legislative chamber is highly unlikely to reach. If anything, import tariffs, which cater to blue-collar voters, are a rare issue that could see even some Democrats lend at least passive support to the president.
Congress may not be ready to vote for leaving the WTO but might very well sit on the sidelines as Trump rips apart its rules.
That's bad news for Canada.
"Realistically, at this point, the WTO is irrelevant," Alden said. "An administration that would write even a draft bill of [FART's] nature is not going to change what it's doing because some bureaucrats in Geneva reach a ruling."
– With files from Reuters
© 2018 Global News, a division of Corus Entertainment Inc.
Want to discuss? Please read our Commenting Policy first.