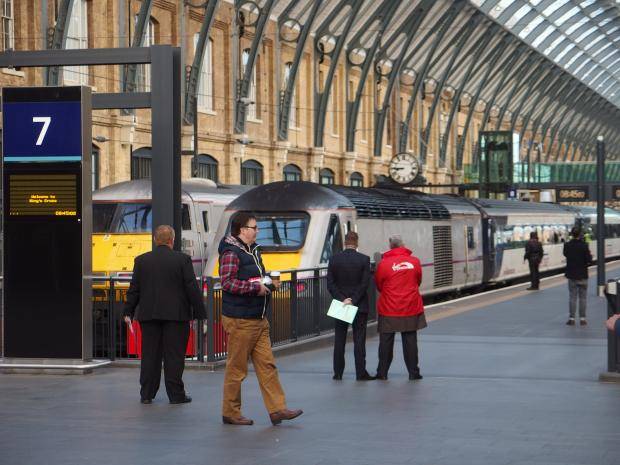 East Coast Mainline renationalised by government after Virgin Trains deal terminated
Franchise is third to fail in 11 years
The East Coast Mainline rail service will be brought back under public control the troubled franchise agreement with Virgin Trains and Stagecoach Group was terminated, it has been announced.
In a stock market statement ahead of an announcement by transport secretary Chris Grayling, Stagecoach said it was "surprised and disappointed" that the government chose not to award it a new deal to continue operating services on the London to Edinburgh route.
Trains will be run by the Department for Transport (DfT) through an operator of last resort (OLR) from 24 June this year.
"So on the same day we will start with the launch of a new long-term brand for the East Coast mainline through the recreation of one of Britain's iconic rail brands, the London and North Eastern Railway," said Mr Grayling told Parliament.
Stagecoach chief executive Martin Griffiths, whose company owns 90 per cent of the franchise, said: "We are surprised and disappointed that the Department for Transport has chosen not to proceed with our proposals.
"We believe our plans offered a positive, value-for-money way forward for passengers, taxpayers and local communities, ensuring the continuation of the exciting transformation already under way on East Coast and a smooth transition to the Government's new East Coast Partnership."
He added: "However, we respect the government's decision. We will work constructively with the DfT and the OLR in the weeks ahead to ensure a professional transfer to the new arrangements, supporting our employees and maintaining the same clear focus on our customers as we have over the past three years.
"Today's decision should not detract from the hard work and dedication of our people at Virgin Trains East Coast, who have been central to the transformation we have been delivering for our customers over the past three years. During that time, we have attracted more passengers, greatly increased investment, achieved industry leading customer satisfaction and made significant payments to the taxpayer to reinvest in public services.
"Despite today's news, we believe that we can continue to make a positive contribution to the UK rail market, delivering long-term customer benefits and sustainable returns for taxpayers and investors."
The East Coast franchise, a joint venture between Stagecoach and Virgin, was intended to run for eight years between 2015 and 2023. But the private operators have complained of losing money on the line between London and Edinburgh, a shortfall which cost Stagecoach an estimated £200m – about a fifth of the value of the entire group.
In November last year Mr Grayling announced that the franchise would be terminated in 2020 to enable it to become a public-private railway.
The decision to end the £3.3 billion contract this year has been described as a "bailout" by Labour and trade unions.
The franchise is the third on the mainline to fail in little more than a decade, following the collapse of GNER in 2007 and National Express East Coast in 2009.
Following those failures, the operation was taken back into public hands. Passenger satisfaction and profits subsequently improved, but in March 2015 the Stagecoach/Virgin consortium took over the franchise.
Shadow transport secretary Andy McDonald said Mr Grayling had "gifted" the operators a "£2 billion bailout" after they failed on the mainline, adding: "And he has the audacity to come to that despatch box and say it's not reasonable to remove or place conditions on their passport. Absolutely ludicrous."
The service's most successful period had come under public ownership until it was "cynically reprivatised", Mr McDonald said.
He added: "The government's incompetence has been disastrous for passengers and led to misery for millions. "We've been here before, many, many times. Year after year, the secretary of state and his predecessors have stood at the despatch box and told the House that privatisation is being reformed.
"We've had reform, reform and reform. We've had bailout after bailout. Rail companies win, passengers and taxpayers lose.
"There's a definition of insanity, doing the same thing over and over again and expecting the same results. This is the situation we find ourselves in today."
Mick Whelan, general secretary of the train drivers' union Aslef, said: "This is the third time in ten years that a private company has mucked up the east coast main line. In contrast, when it was run in the public sector, it returned £1 billion to the Treasury.
"That shows what we have been saying all along – that Britain's railways should be run, successfully, as a public service, not for private profit. Because they can't do it. Virgin and Stagecoach have managed reverse alchemy – by turning gold into base metal, and profits into losses on the east coast."
Rail, Maritime and Transport union general secretary Mick Cash said: "This is the second time that the government have called upon the public sector to launch a rescue operation on the East Coast Mainline and instead of being a temporary arrangement Chris Grayling should listen to his staff and the public and make it permanent.
"After three shambolic private sector failures on the East Coast the message should now sink in that these cowboys cannot be trusted and should be locked out of the system on a permanent basis.
"Anything else risks playing out the same expensive farce over and over again. RMT will now be seeking an urgent meeting with the new operator to bolt down guarantees for staff on jobs, conditions and pensions."
Mr Grayling said he had received "official advice" that Virgin and Stagecoach should be allowed to continue bidding for future rail franchises.
He told the Commons: "A multi-disciplinary panel has considered the situation and recommended that both companies continue as train operators.
"They have advised that there is no suggestion of either malpractice or malicious intent in what has happened. Clearly we have to be vigilant about future financial commitments."
He said the firms have paid a "high financial and reputational price" over the franchise.
The Labour chair of the Transport Select Committee, Lilian Greenwood, said: "Three times in less than a decade, the government has been forced to intervene in the East Coast rail franchise. It is a very sorry tale.
"Let the secretary of state be in no doubt – my committee will be looking closely that what has happened, the choices he made in the run up to this decision and his plans for a new partnership. It is important that the secretary of state is held to account not just for his policies but his implementation of them.