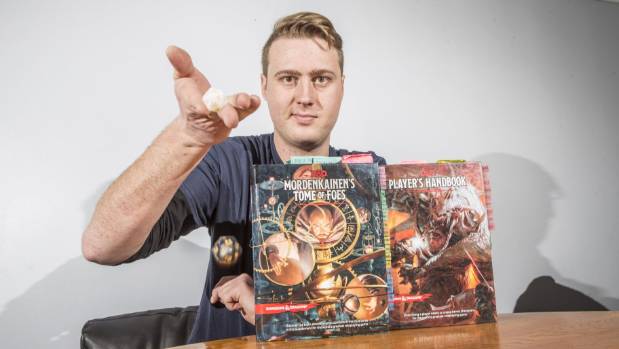 Dungeon master ignites imaginations
A 20-sided die clatters across the table … rolling a 1 is a critical failure. A howl of terror echoes around the arena as you spiral towards the distant valley floor.
What do you do? You could use your grappling hook, if you have one. Maybe hope for your friends to save you. Failing that, hope and pray for mercy on the other side of death's door.
Impossible situations are a common occurrence in world of Dungeons and Dragons, where there is no such thing as a wrong move.
All that's needed is a pen and paper.
READ MORE:
* Dungeons and Dragons: Why it has morphed from geek to chic
* Encourage children to take the imaginative path
* Christchurch D&D show a critical hit
Dungeon master Jonty Roughan has been dealing damage and dishing out monsters to bold adventurers throughout the South Island for just over a year. Having reached out online, Roughan now runs two games a week in Blenheim as well as an one online game that has attracts players from as far away as Manapouri.
"It's not what I thought I would be doing … I thought I would be playing," Roughan said.
The DM (Dungeon Master) is the puppet-master, he sets the scene, describes and plays the baddies, creates the other characters in the world and tells the players how their actions affect the world around them. It's a daunting, difficult task.
"The largest we've had in a group is six people. Usually, it's three or four but you only need two to play.
"Some of our physical games we have a board with pieces but you could play it with a pen and paper on a road trip."
Roughan's online group only met in person for the first time at the recent Armageddon convention in Christchurch.
"Fortunately, everyone in our group is on the South Island. Two people in Christchurch, two in Blenheim and one in Manapouri.
The role-playing game sees players reinvent themselves as a human, elf, dwarf or even a turtle-person, to navigate the world, and the challenges therein, that the dungeon master has prepared.
"It's more of an experience," Roughan said.
"It's great for fuelling the imagination … writers, actors, storytellers – it's amazing for them.
"In my experience, we've had a lot of laughs.
"Comedic moments, dramatic moments, you'll be amazed at what you and your friends will come out with.
In most other games, there is often only one or two ways to success. Here, only your imagination is the limit – which can play havoc in the dungeon master's carefully prepared world.
"I've learnt to not over prepare, sometimes you've got to let it flow", Roughan said.
After four decades of development, Dungeons and Dragons is no longer strictly for the nerds. The game has gone mainstream with adventurers young and old stoking the fires of their imagination, enjoying quests and mysteries, comedies and dramas of epic proportions.
"I had always heard about it," Roughan said.
"It wasn't until a few You Tube channels started doing it that I saw how fun it was.
"I wanted to be a part of it."
Those You Tube channels attract millions of people tuning in every episode. The most popular, Critical Role, has 115 three-hour episodes in its first season and has a large cast of actors, voice-actors and singers.
"That's always the dream, seeing these groups online, I would love to do a podcast," Roughan said.
"For now, it's just to have fun with my friends."