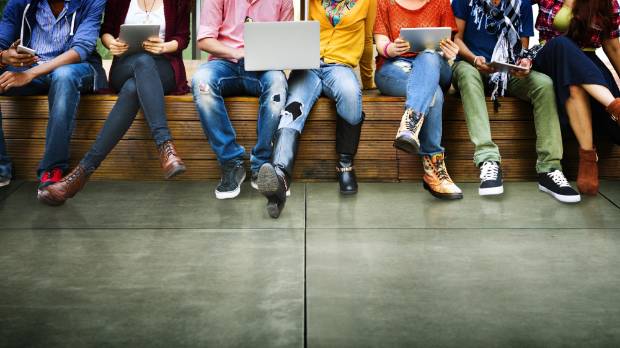 Drop of 44,000 international students forecast if work visa rule change goes ahead
The Government is massively underestimating the likely cost of cutting back international students' work rights, says one of the country's largest private training establishments, which is also warning it might be forced to close its international division.
Aspire2 International chief executive Clare Bradley forecast that 44,000 fewer students might come to New Zealand each year under the proposed plan to limit post-study work rights – a drop of more than a third – costing the economy more than $1 billion a year.
Aspire2 International's own enrolments could "realistically" plummet by 90 per cent it said in a submission to the Ministry of Business, Innovation and Employment.
That meant there was a strong possibility it would "not be able to remain in operation" to complete teaching courses to its existing diploma students, it said.
READ MORE
* Unitec compounded woes with 'big experiment', says union boss
* International student: 'Give us a chance'
* Govt proposes changes visa rights to crack down
Bradley's warning was echoed by Independent Tertiary Education New Zealand (Itenz) – a national organisation representing private tertiary institutions – which warned of significant job losses and business closures.
International education is New Zealand's fifth-largest export earner.
Itenz said in a submission to the ministry that now might not be the right time to lose its "export dollars", given there was "a significant possibility of a trade war between the United States and other countries".
The changes proposed by the Government include only allowing international students on non-degree level courses to work for one year, and completely removing post-study work rights for people who study here for less than two years.
Under the existing rules, both groups can stay and work in New Zealand for up to three years, after their studies.
Immigration Minister Iain Lees-Galloway has been told by officials to expect the number of international students coming to New Zealand to drop by between 12,000 and 16,000 from the current total of 125,000, and a hit of about $260m to the country's GDP.
But Aspire2 said it did not accept that forecast was accurate.
It expected that the number of international students attending private training establishments could fall by 90 per cent and the number attending technology institutes and polytechnics could drop by 80 per cent.
That would mean a combined 44,000 drop in student numbers, Bradley confirmed, assuming there was no change in the numbers studying at universities and schools who would not be disadvantaged by the visa proposals.
Officials had only counted the direct loss to the economy from student fees to get to their $260m figure, rather than considering students' total spending in New Zealand – which Aspire2 estimated averaged between $30,000 and $40,000 – the company said in its submission.
If Aspire2's forecasts were correct, that would suggest New Zealand would be looking at a $1.3b to $1.7b hit to its GDP.
The Government is considering changing the rules about what kind of work international students can do, and how long for, in the wake of concerns that international education has become a back door for immigration.
A discussion document released by the ministry in April said the current pathways to residency were "not right" and the existing rules could exacerbate "migrant exploitation".
Commenting on Aspire2 and Itenz's submissions, a spokesman for Lees-Galloway said one the goals of the public consultations was to ensure the Government had "the best understanding of the possible impact of changes".
"We have received a range of submissions on our proposals and will carefully consider feedback including whether it can help us to refine our estimates of impacts," he said.
The Government expects to make a final decision in August.
The battle over students' work rights comes as some technology institutes and polytechnics struggle to adjust to a drop in enrolments caused in part by higher employment.
Education Minister Chris Hipkins announced on Wednesday that he was consulting on appointing a commissioner to take over the running of the country's largest technology institute, Auckland's Unitec, declaring it in "extreme financial difficulties ".
Unitec on Friday announced the resignation of Lee Mathias, who has chaired the institute since 2014.
Itenz said that if work rights were cut back, more international students would look to study in competing countries that would be more generous, such as Canada.
"The Canadians have a clear idea of where they are heading and unlike New Zealand resist the need to change the settings each time a new government gets elected," it said.