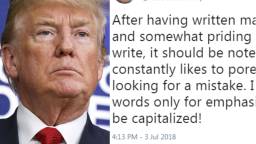 Donald Trump slags media who 'pour' over his tweets, and a dictionary responds
Coverage of Donald Trump and Twitter on Globalnews.ca:
Change Location
Newscasts & Videos
At left, U.S. President Donald Trump. At right, one of his misspelled tweets.
President Donald Trump says his awkwardly capitalized tweets are no mistake.
In a Tuesday afternoon Twitter posting, Trump is delivering the public service announcement about his digital statements.
Coverage of Donald Trump and Twitter on Globalnews.ca:
He tweets: "After having written many best selling books, and somewhat priding myself on my ability to write, it should be noted that the Fake News constantly likes to pour over my tweets looking for a mistake. I capitalize certain words only for emphasis, not b/c they should be capitalized!"
Spelling errors may be another matter. He misspells "pore" in the tweet.
READ MORE: Donald Trump goes after Jimmy Fallon on Twitter: 'Be a man Jimmy!'
Dictionary editors Merriam-Webster didn't let the mistake slide.
In a tweet, they corrected the president's mistake, and even took a shot at his hair.
'pore over' 🔍"to read or study very carefully"
'pour over' ☕️"to make expensive coffee"
'comb over' 💇‍♂️"to comb hair from the side of the head to cover the bald spot"https://t.co/br20fgpmAb
— Merriam-Webster (@MerriamWebster) July 3, 2018
Moments after sending that message, Trump corrected another Tuesday posting critical of his favourite political punching bag — the press.
Trump initially tweeted that The Washington Post is "a discgrace to journalism." He has since corrected that misspelling.
© 2018 The Canadian Press
Want to discuss? Please read our Commenting Policy first.