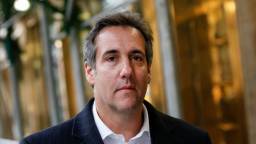 Donald Trump reimbursed Michael Cohen for 2016 payment to 'third party'
WATCH: White House facing questions over allegations of payments to Michael Cohen by companies
Change Location
Newscasts & Videos
U.S. President Donald Trump's personal lawyer Michael Cohen exits a hotel in New York City, U.S., April 11, 2018.
U.S. President Donald Trump repaid his attorney Michael Cohen for an expense greater than $100,001 and less than $250,000 that was incurred in 2016 involving a "third party," according to ethics disclosures signed by the president that were released by the Office of Government Ethics on Wednesday.
WATCH: White House facing questions over allegations of payments to Michael Cohen by companies
Cohen made a $130,000 payment to adult film star Stormy Daniels shortly before the Nov. 8, 2016, presidential election in exchange for her remaining silent about an alleged affair she had with Trump.
The disclosure did not specify the reason for the reimbursement.
This is a developing story and will be updated.
— With a file from Global News reporter Maham Abedi
© 2018 Reuters
Want to discuss? Please read our Commenting Policy first.