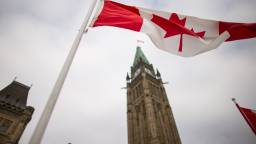 Despite 'barriers' to firing public servants over issues like Phoenix, here's how many were fired for incompetence
READ MORE: Auditor general stands by stinging criticism of Phoenix pay system
Change Location
Newscasts & Videos
Numbers shared with Global News suggest hundreds of public servants were fired in the most recent year for which statistics are available, despite a call from a senior official for the govenment to make it easier to do so.
A total of 77 civil servants were fired specifically for incompetence in 2016 despite concerns raised by a senior public official last week that the barriers to firing public servants over matters like the botched pay system rollout behind the Phoenix fiasco "are very, very high."
According to numbers shared with Global News, a total of 92 public servants were fired for misconduct in 2015/2016 while 77 were fired for incompetence and another 141 were let go during their probationary employment periods.
Combined, that means 310 public servants were fired that year — about 0.1 per cent of the public service's roughly 262,000 employees.
That total of 310 is also a five-year high for the federal civil service but it is not clear whether any executive-level staff are included in those numbers.
Just 197 federal civil servants were fired in total in 2011/2012.
That increased to 241, then 266, then 281 in the years 2012/2013, 2013/2014 and 2014/2015.
READ MORE: Auditor general stands by stinging criticism of Phoenix pay system
Treasury Board secretary Peter Wallace told members of the House of Commons Public Accounts Committee on June 14 that he felt the barriers to firing public servants over mistakes like the Phoenix scandal were too high, and that the government should look at making it easier to fire executives.
"We do need to look at the capacity of the Government of Canada for removals," he said.
"The barriers for cause right now are very, very high. It may be appropriate to look at legislative change to facilitate more rapid removal of executives who have failed to perform. There also may be an opportunity to look at the potential to recover any performance pay, or in particular, pay at risk that may have been granted in error."
WATCH BELOW: Canada's auditor general says 'evident' Phoenix pay system would not work
The numbers suggest that firings for misconduct and incompetence have remained relatively stable over recent years.
Firings stemming from a probationary employment period have gone up.
There were 108 probationary firings in 2011/2012, which dropped down to 88 in 2012/2013 and has continued to climb since.
Ninety-four were fired for that reason in 2013/2014, then 126 in 2014/2015 and 141 in 2015/2016.
In comparison, terminations for incompetence went from 42 to 70 to 80 to 61 to 77 in the same time periods.
Those for misconduct went from 47 to 83 in 2012/2013, then to 92, 94 and 92 between 2013/2014, 2014/2015, and 2015/2016.
WATCH BELOW: NDP calls for national inquiry into Phoenix Pay system problems
Implementation of the Phoenix pay system for federal employees has resulted in pay problems for roughly half of the 262,000 federal civil servants over the past two years. While some were not paid at all, others were paid either too much or too little.
READ MORE: 'An incomprehensible failure': Auditor general slams Phoenix pay system rollout
The system had initially been conceived as a way to cut costs in 2009 but as a result of the problems, the federal government is expected to spend more than $1 billion trying to stabilize the chaos and payroll problems.
In a report last month, auditor general Michael Ferguson blamed three executives for the Phoenix pay system's "incomprehensible failure."
WATCH BELOW: Canada's auditor general says 'many signs' Phoenix pay system was not ready
He said the executives were more focused on meeting the project budget and timeline than they were on flagging problems.
No test was ever actually carried out on the system prior to its launch and no one has been fired for the botched rollout.
At committee testimony earlier this month, the deputy minister for Public Services and Procurement Canada confirmed that two of the three senior executives involved in Phoenix were still employed by the government.
The third has since retired.
READ MORE: Bureaucrats working under Harper and Trudeau rejected IBM's advice to delay Phoenix
A spokesperson for Treasury Board president Scott Brison said the government has the capacity to fire executives and others as needed.
"Already, employees at all levels of the government must adhere to the values and ethics code and all executives must demonstrate the specific competencies expected of them. A breach of these values or behaviours may result in disciplinary measures, up to and including termination of employment," said Jean-Luc Ferland, press secretary to Brison.
"But there should be no sense of complacency about our world-class public service, its performance or its culture. We need to have a Public Service that is more nimble, more creative, more agile, less concerned with process and more concerned with results. And we need to make sure we have the right incentives and disincentives, including in our performance management policies, for government employees to perform at the highest level for Canadians."
READ MORE: Quebec judge authorizes lawsuit against the federal government over Phoenix
Former Treasury Board president Tony Clement said all three of the executives involved in the Phoenix fiasco should have been fired.
"I think that was a clear case, not only of underperformance but major dereliction of duty," he told Global News.
"And not informing people up the line that there was a major problem brewing. If there is ever a case, that could make the case for greater accountability and that people should not keep their jobs in that situation, the Phoenix pay system is that example."
But Chris Aylward, national president of the Public Service Alliance of Canada – which represents 180,000 public servants across the country — says the fact that 310 were fired last year shows it is possible to fire underperformers.
"The clerk of the Privy Council, you should be aware that there are tools available to managers within the federal public sector to take disciplinary actions, including termination. So our members are basically pissed."
WATCH BELOW: Getting rid of the Phoenix pay system won't fix issues: IBM
But Clement says given the overall size of the public service, the fact that such a small percentage were ultimately let go is "unbelievable."
"It's very minuscule, there's no question that it is a very small percentage of the 300,000 public servants," he said.
"But any large group of people in an organization, you're going to have people who are not doing their job properly or who are in some way violating some standard of conduct."
Clement wouldn't say if he will press the government to make it easier to fire bureaucrats, but he does agree the current system is not working and changes need to be made.
"I think it's critically important if you want to have a public service that is working for Canadians and has the confidence of Canadians that you certainly, after this Phoenix pay system debacle, you've got to make some changes. You can't have status quo after this major issue has come to light. "
© 2018 Global News, a division of Corus Entertainment Inc.
Want to discuss? Please read our Commenting Policy first.