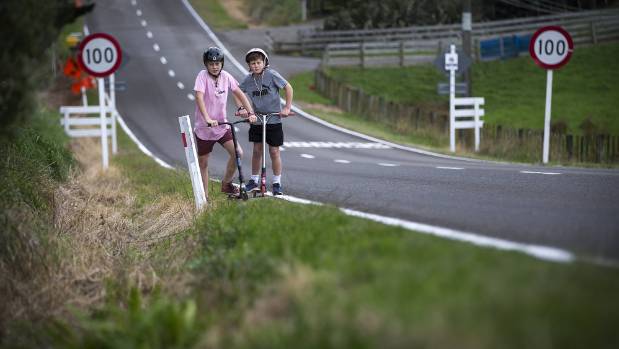 Dangerous roads outside Manawatū school prompt plea for action from scared pupils
Pupils who fear walking to school are pleading for footpaths in a Manawatū village as concerns for their safety grow.
For years pupils at Hiwinui School have evaded oncoming traffic by jumping into roadside ditches as the volume of vehicles speeding through the narrow and undulating rural town increases.
Now, pupils want change and they're pleading with officials to put it at the top of the to-do list.
The settlement, 11 kilometres from Palmerston North, is surrounded by unfavourable terrain, with restricted roadside space for footpaths, officials say. In some places, there is only 1.3 metres between the road and fence.
READ MORE: * Safety concerns for rural Manawatu children prompt traffic study in Colyton
The issue is compounded by urban development in the area and increased traffic from the Saddle Rd, following the closure of the Manawatū Gorge.
Pupil Curtis McKenzie, 12, said about 20 children walked to school and felt the 80km/h speed limit in the village was too high.
The wavy contours of the road also made it difficult to see children walking, he said. While some drivers were kind enough to slow down, others ploughed straight ahead forcing walkers to jump off the road and into the drain.
"We feel there needs to be a change," he told officials at the Manawatū District Council this week.
"We have been needing footpaths for a long time."
His concerns were supported by Hiwinui Community Committee chairman Arthur Wood, who said conversations between residents and the council had been ongoing for several years.
Frustration within the community had turned to anger, Wood said, and it wouldn't be long before tragedy struck.
The problem area was on Reid Line East and Watershed Rd, where the safest place to walk was the open drain. A new subdivision planned on Reid Line East would also add to the pressure, Wood said.
"This community has said for a long time that these children are not safe.
"[The council] continues to take more rates from the Hiwinui rural community, yet have made no commitment to improving the roading to help make the community safer."
Principal Brenda Leigh said there had been several close calls in her 17 years at the school.
It prompted her to install a flashing light and barrier near the school's entrance, to warn motorists of impending pedestrians.
Although calls for a more permanent solution hadn't been successful, she said, despite one landowner indicating they would move their fenceline if the council agreed to install a footpath.
Leigh said the school had incorporated road safety into its core curriculum to regain some control over the issue. The school court has a road painted on it, with various situations simulated, where pupils are taught basic pedestrian etiquette.
The council's chief executive Richard Templer said Hiwinui was a growing community, which posed issues.
The roads in question were not initially designed for the development of footpaths and other residential infrastructure.
Mayor Helen Worboys said there was some work going on, through the safer journeys for schools programme, but that was restricted to signage.
"To say the community is frustrated with the lack of progress is an understatement," she said.
"We hear your frustration and that will be part of our [Long Term Plan] deliberations."
Meanwhile, footpaths are under construction at Colyton School, after residents expressed similar concerns last year.
They called for solutions after noticing a rise in traffic using the town's main road to get to and from Ashhurst, prompting officials to conduct a traffic study.
The footpaths connect the school to the Colyton Town Hall, which pupils use weekly.
Office administrator Donna MacMillian said it moved schoolchildren away from the busy road, which was a long-awaited relief.
"It's great for the safety of our children getting [around the town]."