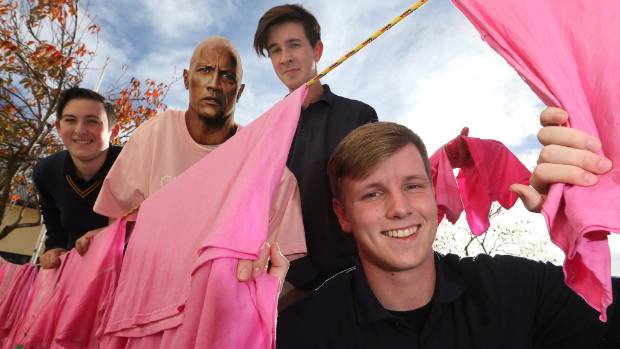 College students lay the 'smack down' on bullying with help from cardboard cutout of Dwayne 'The Rock' Johnson
Students at Marlborough Boys' College are not afraid to wear pink. In fact, they are dyeing to.
The Blenheim college has been taken over by a plethora of pink as students swap their traditional blue uniforms to mark Pink Shirt Day.
Marlborough Youth Trust dropped off a large load of T-shirts on Thursday, so the boys could hand-dye them ahead of Friday's anti-bullying event.
College co-organiser Justin Cook, a peer support prefect, said pupils were keen to support the special day, but not everyone had a pink top to wear.
READ MORE:
* Painting the town pink: Marlborough college students rally for Pink Shirt Day
* Marlborough students take a stand against bullying
* In the pink, Kaikoura Primary stands up to bullying
"It's mainly about making sure students feel safe around the school and feel welcome, especially new students.
"I've always taken part as it's a really great cause to get behind and to make sure everyone knows it's happening," he said.
Pink Shirt Day had gone worldwide since it began in 2007 in Nova Scotia, Canada.
Students David Shepherd and Travis Price took a stand against homophobic bullying after a new year 10 student was threatened for wearing pink.
Figures from the Organisation for Economic Co-operation and Development showed more than a quarter of New Zealand 15-year olds reported being bullied at least a few times a month in 2015.
Justin, in year 13, had heard rumours about bullying at the boys' college before he started there, he said.
But the problem was "improving", he said.
"A lot of what I'd heard just never happened.
"We are not for bullying in any way, size, shape or form."
Marlborough Youth Trust would mark the start of national Youth Week later on Friday with a night-time market at the Market Place, in Blenheim, between 5pm and 9pm.
A stall would be set up for students to customise their pink shirts for free.
For more information on Pink Shirt Day, visit www.pinkshirtday.org.nz