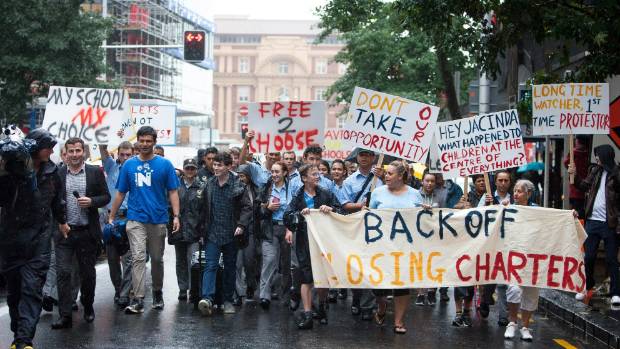 Closure of charter schools 'in breach' of the Treaty of Waitangi, Māori educators claim
Two Māori educators have laid a treaty claim against the Government's policy to close charter schools, saying it will disproportionately disadvantage Māori children.
Sir Toby Curtis and Dame Iritana Tawhiwhirangi allege the closures will have a disproportionate and detrimental effect on Māori, who comprise 75 per cent of charter schools' rolls.
The Government plans to push ahead. Education Minister Chris Hipkins said he believed Māori could succeed in the state school system and Employment Minister Willie Jackson, who has been a vocal supporter of charter schools, called the claim "a nonsensical complaint.
"We don't believe Māori students should be forced to leave the public education system and go into a form of private school to get the education they deserve," Hipkins said.
READ MORE:
* Charter school authorisation board steps down in protest
* National complains about handling of charter school issue
* Changes to charter schools won't see them shut down
* Fight reignites over charter schools
* Auckland charter schools vow to fight closure
Curtis and Tawhiwhirangi believed the Government's offer to transition the schools into the state system was not enough.
Their claim, lodged on Tuesday, said the Crown breached principles of rangatiratanga (autonomy) and kāwanatanga (governorship) enshrined in the Treaty of Waitangi by failing to specifically consult Māori.
​"The Crown has not stated how forcing Māori back into the state system will help to advance educational outcomes for Māori, rather than perpetuate the inequities currently suffered by Māori in state education."
The decision to terminate charter schools' contracts did not take into account the likely effect on Māori, or an upcoming review of the education system that would look at ways to address Māori under-achievement in public schools, it said.
​Curtis said many of the schools' Māori students "enrolled in these schools to get a fresh start in education and get their lives back on track.
"What [transitioning to the state system] would do is to strip the schools of the key flexibilities that were allowing them to succeed. Students would be left with no choice but to either leave school or return to a state system that wasn't working for them in the first place."
Tawhiwhirangi said the state education system had failed to close the gap between Māori and Pasifika achievement and that of other New Zealanders, despite years of trying.
"Yet here we have 11 schools that have been open for less than four years making the difference we have been looking for, and the Government is closing them down. It just makes no sense at all."
Catherine Isaac, the former chairwoman of the charter schools' authorisation board, which resigned in protest of the Government's policy in February, supported the claim.
"Māori have a special mechanism uniquely available to them via the Treaty Claims process to have inequities and unfairness affecting their people reviewed," she said.
"If Sir Toby and Dame Iritana are successful with their application and the resulting claim, it will be a victory for New Zealand kids of all backgrounds, not just those with Māori whakapapa."
Alwyn Poole from the Villa Education Trust, which runs South Auckland Middle School and Middle School West Auckland, said the process surrounding the termination of charter schools' contracts had been "a disgrace" to both the new government and ministry officials.
"Like the complainants … we are absolutely dismayed at the lack of consultation."
Education Minister Chris Hipkins would not comment on the Tuesday's claim specifically, but said he was confident the Government had engaged in good faith throughout the consultation process.
Charter schools moving into the state system would retain "key aspects" of their operations "while also benefiting from the added support and protections of the state system", he said.
He said work on lifting Māori achievement in the state system would assist all, "not just a handful of them that might be going to a private charter school".
Vanguard Military School in Auckland is the only charter school to have its application to become part of the state system approved so far.
Hipkins said he would decide on the remaining nine applications by the end of the month.