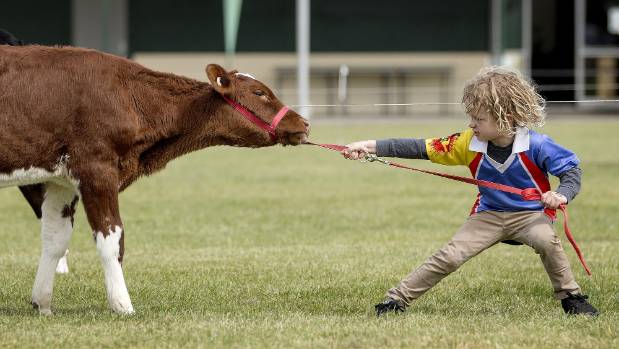 Cattle disease Mycoplasma bovis putting dampener on children's lamb and calf days
A highlight of the rural calendar is under threat as lamb and calf days face the chop while cattle disease Mycoplasma bovis takes hold.
Events in Dannevirke have been cancelled and Hunterville School may hold a pet day instead.
Meanwhile, the revered Craig Cup, which more than 20 Manawatū schools compete for, has omitted calves from its competition.
As of last week there are 35 infected farms in New Zealand, including one in Tararua. On May 28, the Government decided to cull infected stock to try to eradicate the disease, which is expected to take up to two years.
READ MORE
* Spike in Mycoplasma bovis cases expected in spring
* Four more M bovis farms confirmed
* M bovis neighbours to be informed
Manawatū Ōroua Boys' and Girls' Ag Club president Judi Driscole said calves would be excluded from the club's championship day to protect the district's farmers.
The club co-ordinates the Craig Cup, which started in the 1930s. Twenty-three schools compete for it, from as far south as Ōroua Downs, north to Waituna West and east to Turitea.
With hundreds of calves coming from all over the region the risk was too high. Driscole said if animals didn't come into contact with each other, the risk of spreading the disease was low.
Children chose their calves at birth, she said, and with the first arriving in the next few weeks, people wanted certainty over the issue.
The Ministry for Primary Industries this month recommended farmers avoid movement of animals that was not "business-critical".
"We don't want to be party poopers, but right now the disease is not widespread… and we're throwing everything at getting rid of it," a Facebook post explained.
Hiwinui School's organiser David Wood said the school was allowing calves, but only if they were born on pupils' farms.
The school would follow guidelines from Dairy New Zealand, such as calves wearing the correct identification tags, arriving clean with no mud or faecal material on their coat or feet, and using their own drinking bowl.
Calves should be kept separated as much as possible and all pupils must come with clean footwear and clothing, which should be disinfected before returning home.
Wood also said if milk was brought from the farm, it must only be fed to the calf from that farm and not to any others.
Organisers cancelled the Dannevirke and district's lamb and calf day last week, based on advice from Dairy New Zealand and Beef and Lamb New Zealand.
Hunterville School office administrator Jacquie Harding said calves would be excluded from the Rangitīkei school's competition, with a final decision on whether to continue with lambs yet to be made.
A pet day might take its place, Harding said.