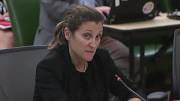 Canada preparing 'detailed' response to potential Trump auto tariffs: Freeland
WATCH: Foreign Affairs Minister Chrystia Freeland vowed Canada is making detailed preparations in the event Donald Trump imposes steep new tariffs on cars
Change Location
Newscasts & Videos
WATCH: Foreign Affairs Minister Chrystia Freeland vowed Canada is making detailed preparations in the event Donald Trump imposes steep new tariffs on cars
If U.S. President Donald Trump slaps auto tariffs on cars made in Canada, the government will be prepared to strike back.
Foreign Affairs Minister Chrystia Freeland made that assurance to members of the House of Commons trade committee on Tuesday, where she appeared before fellow MPs to answer questions about NAFTA negotiations and the $16.6 billion worth of tariffs against more than 140 American-made products set to go into effect on Canada Day.
READ MORE: Boycotting U.S. products? Here's how to buy Canadian during a trade war
The move was a retaliation for Trump imposing significant tariffs on steel and aluminum from Canada last month.
Trump has threatened to impose tariffs on auto imports if the Canadian retaliatory measures go into effect.
"With respect let me say that the prime minister's response on May 31 when the Section 232 [steel and aluminum] tariffs were announced was firm, clear and resolute, and it spoke to detailed preparation," Freeland said in response to a question demanding clarity on what the government is doing to prepare for that threat.
"Our preparations in support of the auto sector are equally detailed and our support will be equally firm and clear, and that's a commitment."
WATCH BELOW: Freeland confident 160,000 auto sector jobs will be protected from U.S. tariffs
Prime Minister Justin Trudeau defended the tariffs at the G7 Summit two weeks ago.
In his closing press conference from Charlevoix, Quebec, he said Canada "won't be pushed around."
WATCH BELOW: Trump complains that Canada 'treats us horribly' on trade
That comment, as well as his rejection of an assertion earlier in the day by Trump that a renegotiated NAFTA will include a sunset clause, caused Trump to lash out on Twitter, calling Trudeau "meek and mild."
Trump had threatened days prior to those comments that he was considering imposing tariffs of 25 per cent on Canadian auto imports under Section 232 of the Trade Expansion Act, which deals with national security threats to the United States.
READ MORE: Chances that Trump will impose auto tariffs 'reasonably good:' U.S. trade expert
The same section was used as justification to impose the steel and aluminum tariffs.
Similar tariffs on automobiles could put an estimated 160,000 jobs in the auto industry in Canada at risk.
WATCH BELOW: Freeland says Canada began the conversation on steel and aluminum 'as soon as it was raised in the U.S.'
The steel and aluminum tariffs are currently being challenged by Canada as well as the European Union and Mexico at the World Trade Organization.
Canada has also launched a challenge under Section 20 of existing NAFTA rules.
READ MORE: U.S. senators introduce bill requiring Congress to approve imposing tariffs on national security grounds
Freeland called it "even more absurd" to suggest Canadian auto imports pose a national security threat to the United States.
On average, auto parts cross the border six times during the manufacturing process because of how tightly-integrated the Canadian and American supply chains are in that industry.
She hinted any move by Trump to impose tariffs on the sector will carry consequences.
"This would be an unprecedented act by the United States and we have been very clear in explaining that to our American counterparts," she said.
"It is important for us to be clear about that as a government."
She also reiterated that NAFTA negotiations continue despite the tariff dispute.
Negotiations are expected to pick up in earnest over the summer as officials push to reach a deal before the American mid-term elections this fall.
A sunset clause, she said, remains out of the question – though it remains a "major sticking point."
"There's already one way for us to get divorced," she said, pointing to an existing clause allowing for exit upon six months notice.
"We don't think that another one is necessary."
© 2018 Global News, a division of Corus Entertainment Inc.
Want to discuss? Please read our Commenting Policy first.