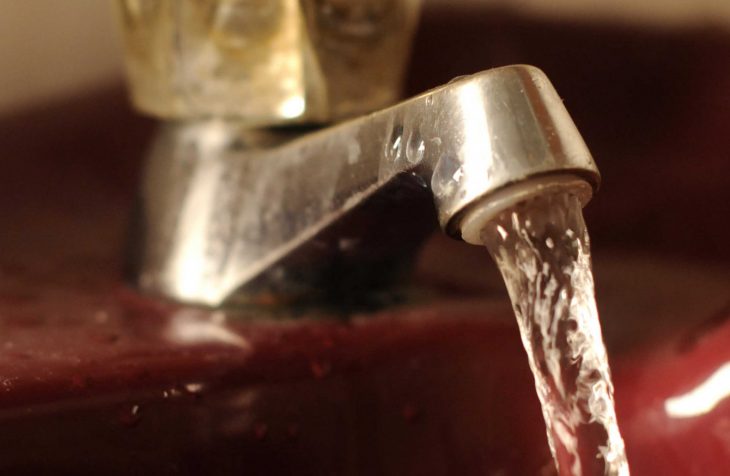 Calls for hose pipe ban as Irish Water says it is operating 'on a knife edge'
Irish Water has asked the public to conserve water where possible during the hot weather.
IRISH WATER HAS the power to introduce a hose pipe ban and restrict the use of commercial car washes under current legislation, according to the Minister of State at the Department of Housing, Planning and Local Government John Paul Phelan.
Fine Gael's Alan Farrell raised the issue of the pressure on Ireland's water supply during this week's hot weather, stating that restrictions under the Water Services Act 2007 should be implemented.
Speaking in the Dáil yesterday, Farrell said it is appropriate to look at the implementation of hose pipe bans, administered either through Irish Water or through the local authorities.
"This is a serious issue that will need to be addressed until such time as the capital and, indeed, other parts of the country have a water supply capable of withstanding more than a few days of sunshine. Today is a beautiful day. The temperature is in the high twenties in Dublin. I am sure it is higher elsewhere in the country," he said.
He added:
There are six locations in the State that are without water at the moment, including one location in my own constituency, another in County Longford, and other places.
Replying to Dublin North TD, the minister said Irish Water is prepared to use section 56 of the 2007 legislation.
"It has the capability under law to act when it finds treated water is at an unacceptably low-level," he said.
'Operating on a knife edge'
Eamon Gallen, General Manager of Irish Water told RTÉ's Morning Ireland today that it is "operating on a knife edge".
The water production capacity for the greater Dublin area is 610 million litres per day.
However, on Monday of this week, Dublin's usage was 609 million litres, something Gallen described as "very concerning".
On Tuesday night, usage hit 603 million litres. Gallen said Dublin's water supply is "not resilient to stand up" to hot weather.

Michelle McNally from Trim jumps into the sea at the Forty Foot in Dublin during the sunny hot weather.

Source: RollingNews.ie
Demand on water supply is increasing and there is less water available for treatment, said Gallen, who urged people to conserve water where possible.
People should take shorter showers, avoid watering their lawn, and they should not wash their cars during the dry spell.
Water restrictions
Currently, there are water restrictions in place in a number of areas around the country.
Overall there is about 10,000 households affected, with 7,000 of those in Kilkenny. There are also restrictions in place in parts of Longford, Laois and Kinnegad.
Areas such as Donegal, Limerick and Mullingar are under pressure also.
Speaking in the Dáil this week, Farrell said the public have to be responsible and cut-back on their water usage at times when there are shortages, adding that he was surprised when he got a text message from a constituent to tell him there was a queue for the car wash at a service station in north County Dublin affected by the water shortage.
The minister said there is a need to promote water conservation, adding that the suggestion of a hose pipe ban is one possible measure.

Sandymount Beach

Source: RollingNews.ie
Water Services Act
Phelan said that under the Water Services Act 2007 there are already statutory provisions for the introduction of a such a ban and other restrictions designed to conserve water supplies during times of drought.
It also provides for a fine of €125 for breach of such restrictions.
These arrangements can come into force when a water services authority – which effectively means Irish Water – is of the opinion that a serious shortage of water supplies exists or is imminent in an area, he explained.
This would typically be during or following a prolonged period of dry weather but, in any event, it is possible for Irish Water to make such an order where demand is expected to exceed supply and it becomes necessary to restrict the use of water supplies including restricting certain activities involving the use of water.
The minister said that specified activities which may be restricted include watering a garden, watering of recreational parks or sports grounds, irrigating or spraying crops, washing vehicles, the provision of commercial washing services for a vehicle or trailer, or filling or replenishing a swimming pool or an artificial pond or lake.
In practice the restrictions may apply to specified activities for all or specified parts of the day.
Making an order
Before making an order the water services authority must give public notice of its intention to make such order and the period for which the order will remain in force through advertising in the public press or broadcast announcements on television or local or national radio, said Phelan.
The minister said such provisions are well established in other European and international jurisdictions.
"While the option of a hose pipe ban is there, we need to look to other conservation measures and the management of our water supplies. Irish Water's drought management group has been meeting to assess the risk to drinking water supplies," said Phelan.
The minister said Irish Water has advised him that current storage in the raw water reservoirs in the greater Dublin area, at Roundwood and Pollaphuca, are reasonable and they do not see water shortages at present.
However, if the summer and autumn continue dry and hot, these reservoirs will come under pressure later in the year.
"It behoves all authorities of the State, in addition to citizens, to recognise that their use of water will have a direct impact on their neighbours and communities if they do not act responsibly. Most people recognise that in times of scarcity, such as this, it is up to them to be responsible in their use of water," concluded the minister.