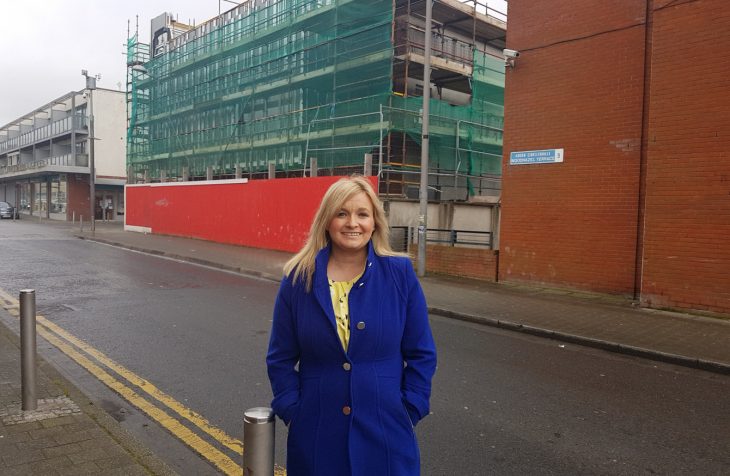 Ballymun gaelscoil will be finished by September despite contractor entering into examinership
Under the examinership arrangement, it was agreed that the company would continue operating.
THE DEPARTMENT OF Education has sought to reassure parents and students of a Dublin school who were due to return to a new building in September that the construction will be complete on time despite the fact that the contractor has entered into examinership.
In May 2016 it was announced that construction on a new building for Gaelscoil Bhaile Munna would go ahead after years of delays. The gaelscoil had started out with two prefabs in 1994 that were supposed to be temporary but by the time the announcement was made in 2016 it had six prefab buildings that house around 180 pupils.
This week, local councillor Noeleen Reilly, who had campaigned with Ballymun locals for years for the new school building, expressed concern at news that the contractor hired for the project, a company based in Northern Ireland, had ceased work due to financial difficulty. She said parents and teachers were "very frustrated".
"There is very little left to be done, most of the building work has taken place," she said.
Reilly said the community has been "very excited for the new school as we were waiting over 20 years so for this to happen".
In response to a query from TheJournal.ie, the department said it is "aware that work has paused on the Gaelscoil Bhaile Munna project, due to the fact that the contractor entered into operational restructuring via a Company Voluntary Arrangement (CVA) on 31 May 2018."
A CVA is the Northern Ireland equivalent of examinership.
"On 24 June, under this CVA, it was determined that the company would continue operating," the department said.
"Following on from this, the design team for the project is now engaged with the contractor with a view to completing the works by September."