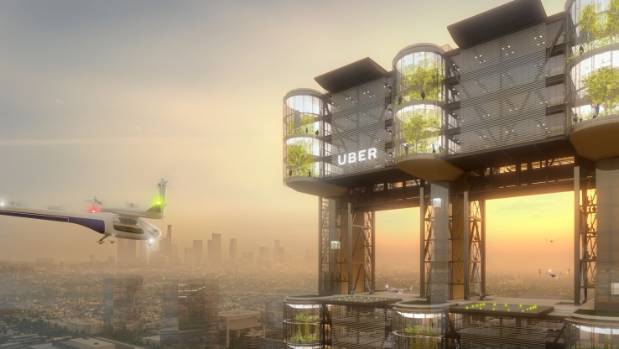 Air taxi doubters can 'enjoy their motorway journeys' says Uber
Uber has acknowledged it may be a bit of a stretch for Auckland to become a trial city for its proposed air taxi service.
But Nikhil Goel, who heads its futuristic Elevate programme, still insists it is a real possibility.
Uber hopes to launch a commercial service in 2023 that would see people ferried around cities by electrically-powered "air taxis" that would take off and land vertically.
Executives from the company are touring the world looking for a third city to join Dallas and Los Angeles in trialling the service from 2020, and at the same time talking to regulators.
READ MORE
* Rubber hits the road on the fourth transport revolution
* US company offers new look at prototype flying car
* Flying taxis showcase New Zealand as a global tech incubator
Goel would not say how many cities had been told they might be under consideration to become the third trial city for Uber Air, but confirmed other options included Dubai, Sydney, Melbourne.
"We will be visiting a number of others over the next several months."
Considerations included population size, existing traffic congestion and a favourable regulatory environment, of which the latter was the most important, he said.
Auckland might be "a bit of a stretch" because of its smaller size, but was "absolutely" on the list, he said.
Asked to comment on what he would say to people who had doubts an air-taxi service could be developed in the timeframes that Uber was suggesting, Goel said: "I hope they will continue to enjoy traffic on the motorways in years to come".
"This technology is very real." A number of companies including Boeing were racing to produce test vehicles by 2020, he said.
"I've bet my career on it and so have a number of others."
"Sky ports" could be distributed throughout cities, with some on the rooves of sky-scrapers and others at ground level, and at facilities such as stadiums and airports, he said.
Uber envisaged building owners and developers would invest their own money building sky ports in return for a share of revenues the air taxi service would generate.
Goel said discussions with New Zealand government officials had been "really positive".
"Regulators here in New Zealand start with 'yes'. They want to know how they can help make this a reality and how they can help.
"We want to work with partners who equally want to work with us and that I think is going to be the 'number one' criteria for our selection."