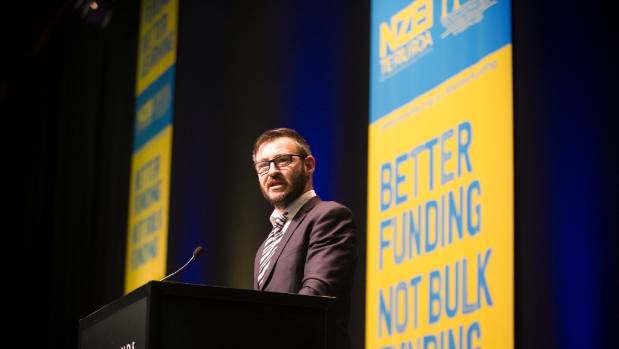 A new approach to education consultation, and not everyone's happy
A high school union boss says the principals who gave Chris Hipkins' NCEA review a "fail" grade have "jumped the gun".
Full-page spreads were bought in Stuff's Sunday Star Times and competitor the Herald on Sunday by a group of nearly 40 high school principals, predominantly in Auckland, attacking the Government's review process of the national high school qualification.
Among the criticisms were the consultation period was too short, the ministerial advisory committee did not have a representative mandate, and principals had not been engaged in enough direct consultation.
It gave the minister a "fail" grade, saying the review was "too rushed, not enough thought, must do better for young people".
READ MORE:
* Education minister 'disappointed' in principals' adverts
* Principals incensed over NCEA review process
* A complete overhaul of NCEA level one has been recommended to Government
But Post-Primary Teachers' Association (PPTA) president Jack Boyle said consultation was ongoing, and nothing was set in stone.
"Rather than jumping up and down at the start, that this is all set in stone, and firing off in the wrong direction, it's probably more sensible to have a measured response to each of the steps in the process, so you can deal with what's most important, and that is to ensure that we have got a top-flight education system, where we are delivering the right type of learning to our young people, including those who have missed out."
Boyle said part of the disquiet could be because Hipkins was more open to consultation and co-construction than his recent predecessors.
"Some of the principals behind the newspaper ad are maybe used to having their voices pre-eminent on matters related to education…
"Minister Hipkins appears to be wanting to draw widely on voices that aren't always heard, and has therefore adopted structures that are a little different."
The past nine years was a period of no consultation, consultation after decisions had been made, or what Boyle referred to as "nonsultation".
"I guess some might be stuck in the experience of the last nine years, where consultation that happens, happens after the plans already been signed off."
Open and ongoing consultation was worth pursuing, and PPTA had good reason to believe Hipkins would keep his word that any decisions that affected the profession would be made in conjunction with the profession.
"We believe it's more important to work in good faith in a truly open way," Boyle said. "It's a very contested space. The reality is you're not going to please everybody more than half of the time.
"But having an opportunity for people to bring their professional knowledge and experience into a change programme is a hell of a lot better than not consulting, or doing a nonsultation."
Rather than "jump the gun" and "create policy via media", schools and principals should be working with the Government, he said, adding that a review of NCEA was required under the regulations, and would have happened regardless of who was in Government.
However, it was not surprising some people in the education sector felt overwhelmed with the number of current reviews and changes.
In May, a seven-person ministerial advisory group suggested a shake-up of NCEA, which would include halving the number of credits at level 1 and more project-based learning.
The proposal would get rid of the need for external exams, remove fees for NCEA and Scholarship entry, and could bring in digital, financial, and civic literacy.
On Sunday, Hipkins said the claims printed in the open letter were not necessarily surprising from those particular principals, who were "more traditional in their thinking", but he was disappointed to see the advertisements.
"I think it was only a moderate surprise. I think if you look at some of the names who were signatories to that advertisement, their views on NCEA are well known.
"They are much more traditional in their thinking and we do want to hear from them, but we also want to hear from people who have different views."
​Hipkins said he had discussed the review with some of the principals who were signatories to the letter, but they did not represent the views of all principals and teachers around the country.
Meanwhile, National leader Simon Bridges accused the Government of arrogance and said it "must listen to principals".
"When 40 of Auckland's school leaders unite to speak on a matter as important as how our kids learn, the Education Minister Chris Hipkins needs to front up and listen to them – and not tell them they can just send in their thoughts on some web portal," Bridges said.