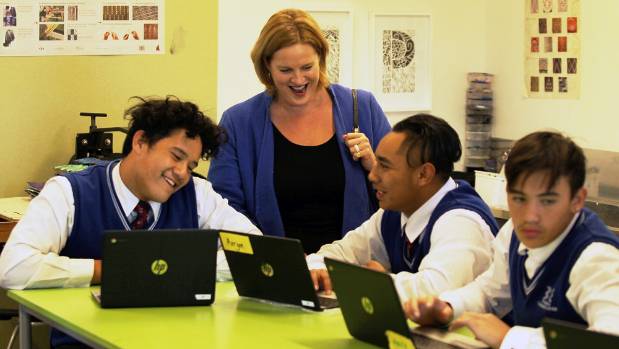 Students enjoying paperless approach
Almost completely abandoning pens, paper and books could have spelled disaster for Te Wharekura o Te Kaokaoroa o Pātetere.
​Two terms in and the Putāruru Māori immersion school has no regrets about making the switch to Chromebooks for all Year 9 to 13 students.
Assistant principal Aaron Koopu said students have responded well to the absence of the traditional classroom staples.
READ MORE:
* Putaruru school funds all high school student Chromebooks
"They love it because it is a world they understand," he said.
"Productively has just gone up because they can access assessments at home through Google Classroom which is one of the more beneficial things."
"They can now do things in their own time which has also put more onus on our kids to take responsibility of their learning because everything is there."
"There are no more excuses now for them not to be doing their work," he said.
He said while staff are still adjusting they've worked through any initial teething issues.
"When we first started our routers could only support 20 devices but at any one time we might have had 50 devices hooked up to one router so we had to get a technician to come in quite a bit but we have overcome all that now," he said.
"We are also still in the process of realigning our curriculum and digitalising a lot of our assessments to put onto our server but it's a process over time."
"The good thing about moving to Chromebooks is that it is way easier to collate data and easier to analyse that data and make decisions as to what we need to be doing to cater to them academically."
"Feedback from staff is that they are now able to get better quality work out of kids," he said.
Taupō MP Louise Upston visited the school last Friday to see the students using the Chromebooks.
"They can access Google Classroom from a phone or any other device so there is the ability to work at your own pace," she said.
She was impressed by the ease of collaboration.
"As a group they are all entering the same document at the same time and you can see who is doing what," she said.
"If I need a document [staff] are working on I need to text to say can you close it so I can go and edit it."
"It feels like we are a million years below what they are doing," she laughed.