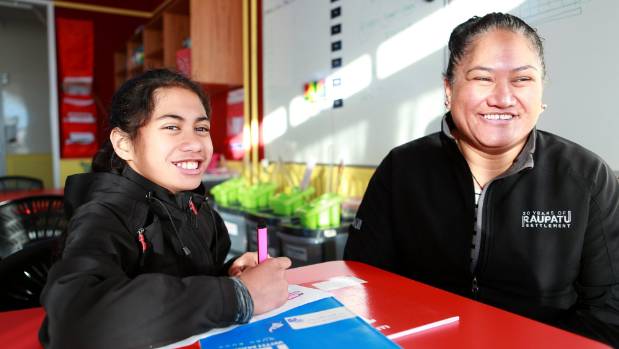 Kura rolls leap as immersion option proves popular
Waiokura Iti-Moeke came home crying after the first day at her new school.
It was because for the first time in four years her teacher had pronounced the then nine-year-old's name correctly.
Her mum Kaaro Iti-Moeke decided to trial Waiokura at Te Kura Kaupapa Māori o Te Ara Rima, joining the increasing number of parents opting for a Maori immersion education that has seen rolls at Hamilton's kura leap.
According to the Government's Education Counts website the number of students attending Māori medium schools nationally increased by 16 per cent, or 2,646 students between 2012 and 2017.
This upward trend has also been reflected in the Waikato region with the number of Waikato students attending Māori medium schools increasing by 32 per cent, or 832 students over the same period.
Kaaro Iti-Moeke said she made the switch after being dissatisfied with their previous school's Māori content.
"I had met with the then mainstream school to ask about their plans for the following year around Tikanga Māori and Te Reo Maori and was told that there really were no plans to change, or anything like that.
"That didn't really sit well with me so we decided to trial Waiokura at kura kaupapa and day one was when we knew that it had already impacted on her," Iti-Moeke said.
Waiokura had an emotional response to one word.
"She was crying and I thought she had had a bad day but it was because everyone had pronounced her name properly. It was everybody," Iti-Moeke said.
In all subjects, English included, Iti-Moeke says her daughter's educational needs are being well met by the kura.
"I've seen that's she's getting the support that she was lacking, and some. It's really across the board and we've felt really supported there," she said.
TKKM o Te Ara Rima representative Ngawai Reti started with the kura in 2016 and has seen dramatic increases in students wanting to enrol at the Māori immersion school.
"The roll has increased by 80 per cent since I've been here. It's been huge. We've got a huge waiting list and we have quite a few children coming over from mainstream," she said.
Last July, TKKM o Te Ara Rima, had a roll of 145 students and their current figures show 186 students enrolled.
According to Reti, Hamilton's demand for Māori immersion schooling is under-catered for.
"We only have four kura kaupapa in Hamilton and we're all full. Parents are bouncing from the next school to the next school and they're starting to have nowhere to go. They keep trying to go to the other ones or keep trying to come to us and we're starting to realise that we're just pushing them around in circles.
"I think, for sure, there is a need for more kura kaupapa Māori in Hamilton," Reti said.
"Reasons why they're coming over is more of a cultural awareness and wanting to be a part of kaupapa Māori and wanting their children to be a part of it because their children are Māori," she said.
"It's wanting them to have what's already theirs and to be a part of their culture," Reti said.
Ministry of Education deputy secretary sector enablement and support, Katrina Casey said there was some room left at Hamilton kura but the Ministry was keeping an eye on numbers.
"Currently kura and schools across the city that offer different te reo Māori learning options have capacity to take more students therefore we do not have any immediate plans for more Māori immersion schools in Hamilton city.
"We plan to meet with whānau and the sector in Hamilton city in late 2018 to discuss learners' access to and choices of immersion pathways for the future. This will be part of our broader work to manage the network of provision across the region," she said.