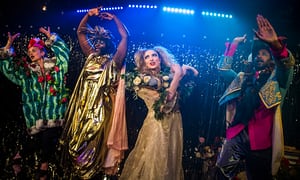 Effigies of Wickedness review – Nazis' 'degenerate' songs pack a powerful punch
Gate theatre, London
The subversive, hard-hitting – and funny – music by composers banned by the Nazis is the real star of this charming cabaret show

What on Earth to expect from Effigies of Wickedness? It's billed as the first collaboration between English National Opera and the Gate theatre in Notting Hill – the love child of an opera company resident at the largest-capacity theatre in the West End and a black-box venue above a pub, seating a few dozen. Its fringe theatre parentage dominates in a cabaret-style show that starts off with an am-dram, Play-That-Goes-Wrong vibe. It needs to settle into itself slightly; but already, at its best, Effigies is funny and hard-hitting.
The show has grown out of a recital programme of songs from 1920s and 30s Germany developed by the baritone Peter Brathwaite. "Effigies of wickedness" is one of the many choice phrases used by Nazi mandarins to denigrate music they considered "degenerate" – music that was banned for being too political, too subversive, too experimental, too jazzy, too upbeat, too downbeat, too gay, too black, too Jewish. The list of potential sins, read at the start by Brathwaite, goes on and on. All of that might imply a serious production. This one, staged by the Gate's artistic director Ellen McDougall, sends itself up frequently, at least during the first hour of its 90 minutes. Ellan Parry's designs – neon tubes, shiny fringed curtains, tons of sequins – give the room the feel of a cheap nightclub into which someone has emptied a huge dressing-up box.
Brathwaite is joined by mezzo-soprano Katie Bray, the bearded drag performer Le Gateau Chocolat and Lucy McCormick, a singer-actor-comedian whose previous show – a retelling of the New Testament through "vogueing, power ballads and performance art", with McCormick as Jesus – might have raised eyebrows in even the most decadent Weimar club. All sing powerful solos, and their four-part harmonies are near-impeccable. There's also a violinist, saxophonist and accordion player, led from the piano or double bass by Phil Cornwell, playing Corin Buckeridge's arrangements. The banter between singers and audience, inevitable in this tiny space, is mostly led with easy charm by Gateau or with acid wit by McCormick. It's a bit homespun, but the humour is apt: a lot of the songs have their tongue firmly wedged in their cheek.
McCormick provides the comic highlight, belting out Friedrich Hollaender's 1930 song Sex Appeal as a wannabe starlet attempting to strike the perfect Garbo-esque pose. Throughout the evening, however, it is always the material that remains the star. Satirical song flourished during this tense decade as never before or since, with Kurt Weill, Hollaender, Hanns Eisler and the rest clothing razor-sharp text in earwormingly memorable tunes. These English versions of the lyrics, most of them brilliantly written by Seiriol Davies, make it clear that the majority of these songs remain startlingly topical.
Weill's Petroleum Song, cuttingly delivered by Bray, is a 1928 tale of oil company greed wrecking a community (Margate, in this unlikely case). Eisler's Paragraph 218, subtitled Abortion Is Illegal, has McCormick whispering and spitting out Bertolt Brecht's text imagining a desperate woman's conversation with her unsympathetic doctor. Yet more striking, especially in the run-up to the Irish abortion referendum, is Hollaender's song Münchhausen, delivered with haunting simplicity by Gateau: in one verse another pregnant woman is just as desperate, but imagines her doctor reassuring her it is her right to choose. The refrain that follows? "Liar, liar" – beautiful but hopeless. These songs may be old, but they are in no way out of date.
• At Gate theatre, London, until 9 June. Box office: 020-7229 0706.